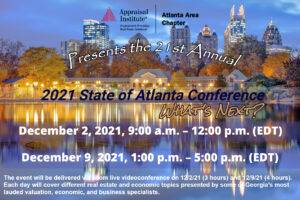 Continuing Education & Attendance Policy
The Appraisal Institute and the GEORGIA Real Estate Appraisers Board have approved 3 hours for Part 1 (DEC. 2, 2021) and 4 hours for Part 2 (DEC. 9, 2021) of continuing education credit.
100% attendance is required to receive CE credit.
Virtual Classroom Participation Guidelines: 
Students must have a reliable internet connection, computer (or tablet), web camera, audio (speaker and microphone) capability to participate and receive continuing education credit.

Your webcam must be on at all times with you in front of it.  Check your webcam privacy settings and allow the Zoom software to access it. If you have a Lenovo laptop, some participants have noticed that they need to install the Lenovo Vantage App on their computers for the webcam to operate. 

A paid Zoom account is not required to participate; however, you need to sign up for the free basic Zoom account/ application (zoom.us) and install the app prior to the seminar start date.

The Zoom platform will be interactive and live. The instructor must be able to see and interact with all students and students must be able see and interact with the instructor.

Students must be in a location that allows for their full attention and interaction.

A copy of your driver's license must be emailed to the Chapter office as verification of your identity after you have registered for the seminar and prior to the start date. 

You will receive a separate email from Suzanne Brockway, 24 hours before class, with Zoom login information. 

Contact the chapter office if you have any questions regarding the participation guidelines, at sbrockway@aiatlanta.org.