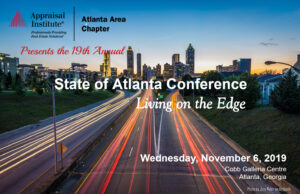 Continuing Education & Attendance Policy
The Appraisal Institute and the Georgia Real Estate Appraisers Board have approved 7 hours (3.5 hours morning and 3.5 hours afternoon) of continuing education credit.
Georgia classified Real Estate Appraisers, Real Estate Brokers, and Real Estate Sales Representatives will receive up to 7 hours of CE credit.
100% attendance (3.5 hours morning session and/or 3.5 hours afternoon session) is required to receive CE credit.